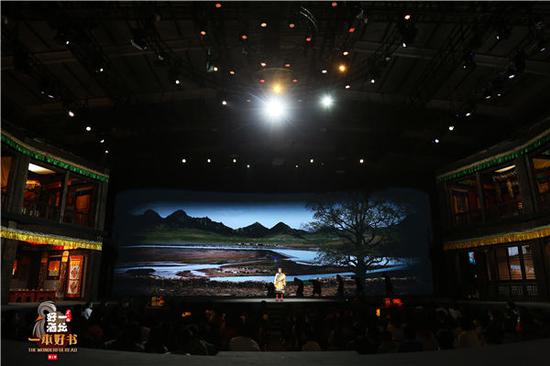 The "idiot" played by Yu Entai is narrating the background of the story in the play adapted from writer A Lai's novel Settling Dust. The first part of the two-episode online show has been viewed more than 15 million times on Tencent Video since Dec 10. [Photo/China Daily]
A play that offers a new interpretation of writer A Lai's award-winning novel, Settling Dust, is proving popular online.
Recently, Tibetan ethnic writer, A Lai, came to Beijing from Sichuan province to see a new adaptation of his award-winning novel, Settling Dust (also known as Red Poppies), which he first published in 1998 and for which he won the fifth Mao Dun Literary Prize in 2000, the top literary award in China.
The play, starring actor Yu Entai and actress Xu Fan in the leading roles, has been produced as a two-episode online show, the first episode of which has been viewed more than 15 million times on Tencent Video since its release on Dec 10.
As one of the most popular contemporary Chinese literary works, so far Settling Dust has seen more than one million copies sold. It has been translated into more than 20 languages, including English, French, German, Russian, Swedish, Korean and Serbian, and published in over 30 countries around the world, A Lai, 59, says.
Before this play, the novel had been adapted into a dance drama, an opera, a TV series and a Sichuan Opera piece.
When A Lai saw the play adaptation, he says he was pleased to see that the novel has been interpreted and presented to an extensive audience in such a new style.
Settling Dust is A Lai's debut novel. In the first-person narration of an "idiot", the second son of a Tibetan chieftain living in the Tibetan borderland in Sichuan's northwest, the novel tells the stories of the Maichi family and feudal life in the last decade before the People's Liberation Army liberated the area in 1951 and ended the serf system.
At the beginning of the novel, people believe that the second son of the Maichi chieftain, born to his second wife-a Han ethnic woman-is an idiot and poses no threat to his half-brother's future. However, the seeming idiot gradually turns out to be wiser during a key competition between him and his brother, which changes everything.